Vor wenigen Tagen veröffentlichte Andreas Maschke JWildfire 1.70 mit lokaler Farbwechseleffekte
Was sich zuerst als eine klasse Neuerung auf Google+JWildfire User Group zu lesen war stellte sich bei meinen ersten Tests als vollkommen überflüssig, oder besser als nicht voll funktionsfähig dar, solange es hierfür keine Echtzeitvorschau gibt. Ich persönlich hätte das auch lieber unter "Coloring" gehabt, aber was soll´s, funktioniert eh nicht richtig.
Es geht um den neuen Gamma Tab.
I have enhanced the Flame Fractal Algorithm by local modifiations of gamma, contrast and saturation on a transform-basis. Those new sliders work similiar to the color values ("color" and "color-speed"), but they control changes in applied color values, rather than specifying color values themselfes.
This makes it much more easy to create flame fractals with more depth, without the need of endless fiddling with the gradient 
Of course, having 6 new sliders at each transform may be much overwhelming. To make it easier to get used to this new controls there are functions to randomize/reset the local color-changing settings, both on a transform and fractal-basis. Additionally, there is a new mutation-type "Local gamma" for the MutaGen-module to play around (does modify all values, not only gamma, but was a crisp name :-)).
Was der eigentliche Sinn der Sache war, oder ist, man soll die Farben schneller und genauer korrigieren können, und für jede einzelne Formel  eine bessere Farbtiefe erreichen können.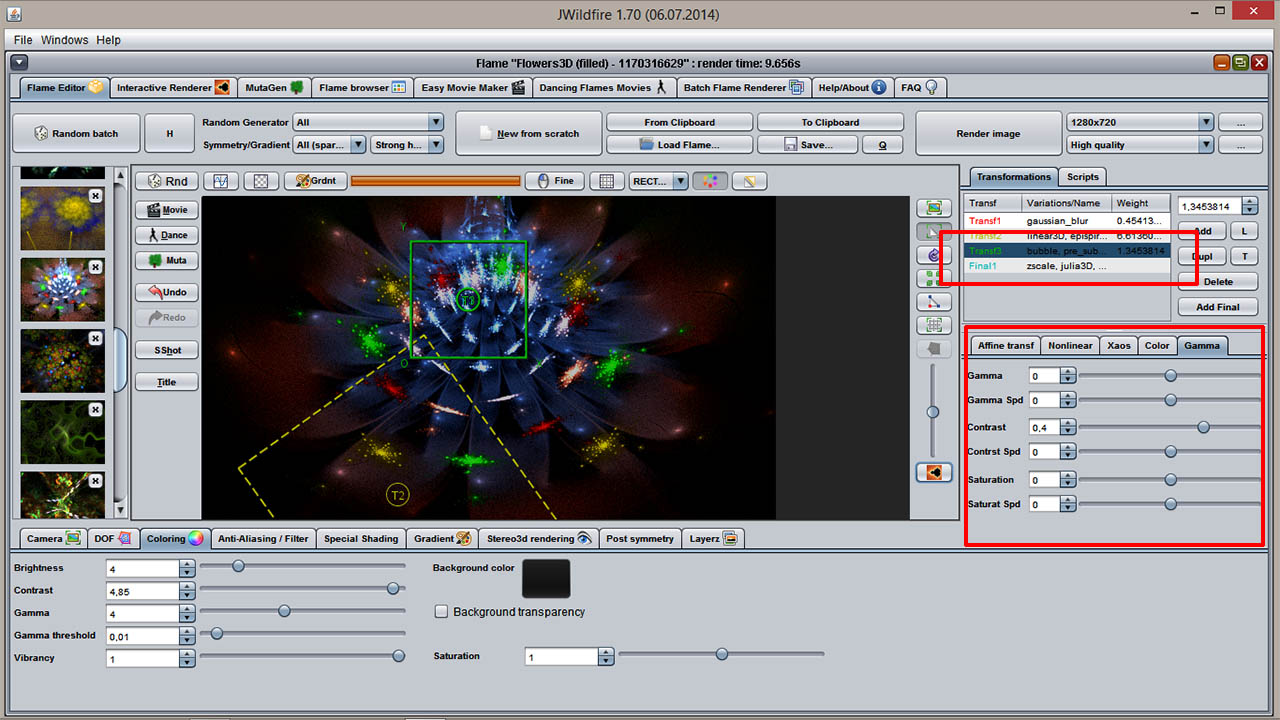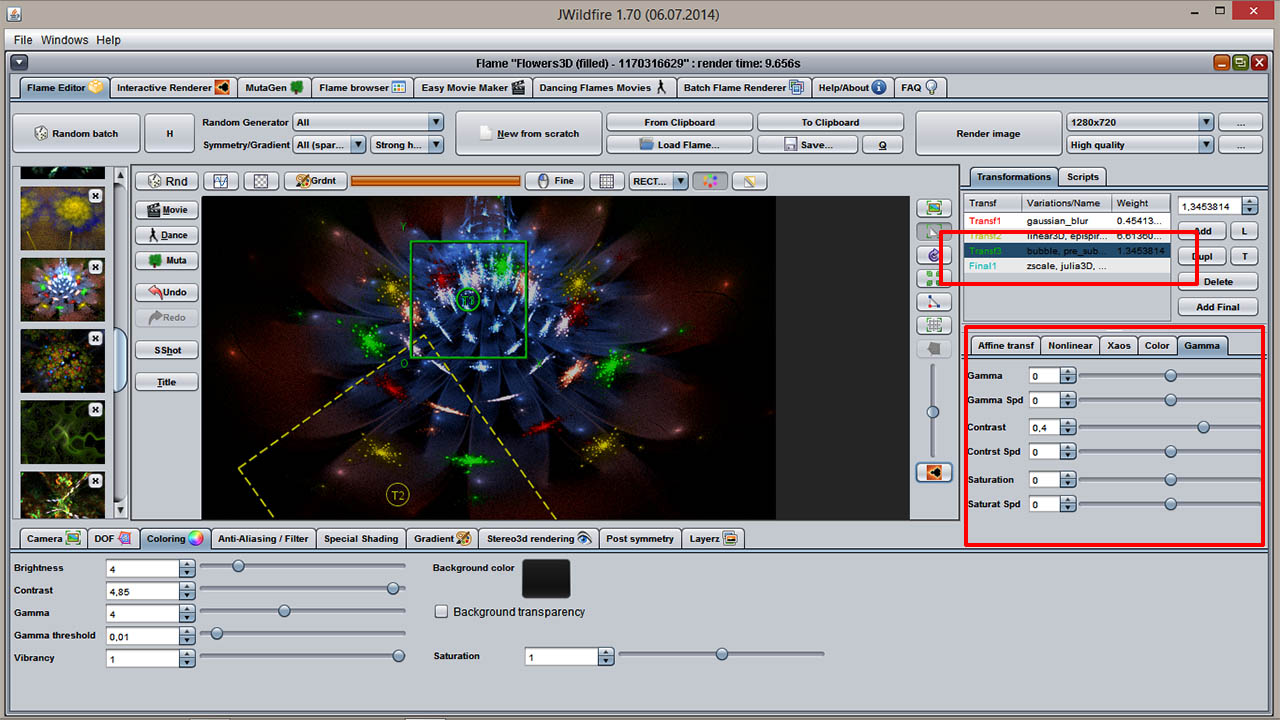 Dazu muss zuerst die entsprechende Transform ausgewählt werden, damit man dann mit über den Gamma Tab die 6 Slider erreichen kann, mit denen eine bessere Farbtiefe, und einen höheren Kontrast erreicht werden soll. Konnte ich bisher leider nicht feststellen. Liegt bestimmt auch an  mir.
Ich regle das auch weiterhin über den Color Tab über Contrast und Brightness, sowie wie bisher auch über den Gradient. Was hier dann unzureichend für meine Verhältnisse ist kommt in die Postproduktion über Photoshop.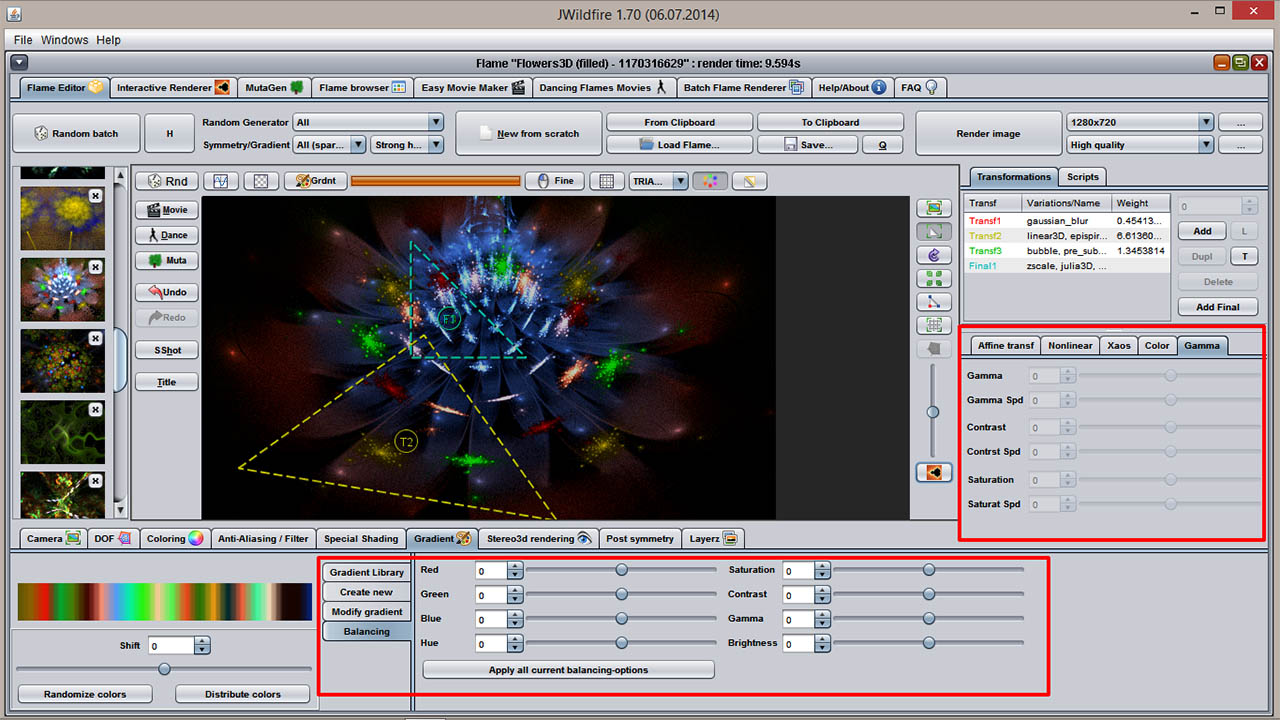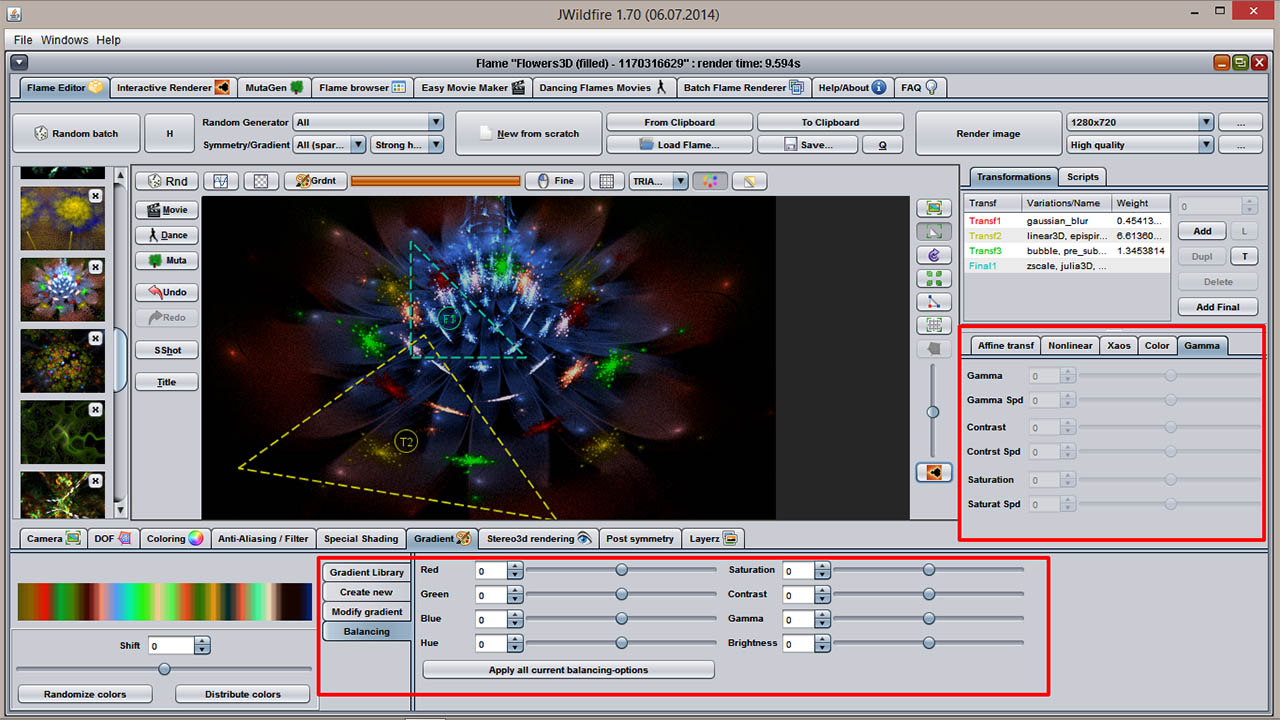 Nichts desto trotz ein klasse Tool, auch wenn ich nicht alles davon verwende. Wie Dancing Flames un d Easy Movie Maker. Für mioch wäre Änderungen im Batch Renderer wichtiger, als Regler, die mir nichts anzeigen.
Leider funktioniert das "Pseudo 3D Rendering unter dem Tab "Special Shading"  auch nicht mehr, und die Vorschau bleibt schwarz, das macht damit ein Rendering eines Flames gleich in welcher Umgebung mit voreingestelltem Pseudo 3D unmöglich.
NACHTRAG zu PSEUDO3D RENDERING
Wie ich heute erst gelesen habe, arbeitet Andreas auf einen Beereich hin, den ich bei Flame Fraktalen oft vermisse. Die Wandlung eines Flames in ein 3D Modell. Das wäre natürlich fantastisch, wenn das bald klappen würde. Link zum Threat im Fractalforum (engl.)
Vielen Dank Andreas, JWildfire ist ein tolles Programm, und wird bestimmt auch immer besser.
Download JWildfire 1.70
Komplette Liste der Änderungen:
– new tab for local modification of gamma, contrast and saturation on a transform-basis. Those work similiar to the color values ("color" and "color-speed"), but they control changes in applied color values, rather than specifying color values themselfs. This is a true new addition to the Flame Fractal Algorithm itself, and makes it much more easy to create flame fractals with more depth, without the need of endless fiddling with the gradient 
– new buttoms for randomization and reset of local color effects
– new mutation-type "Local gamma" allowing local-gamma-modifications in the MutaGen-module
– new "oscilloscope2″, "scrambly" and "scry2″-variations by dark-beam
– new "circlize2″, "squarize" and "squish" – variations by Michael Faber
– new "splits3D"
variation by TyrantWave
new "sphere_nja"
variation by Nic Anderson
new "tancos", "rippled", "funnel", "roundspher", "spiralwing", "rays1″, – "rays2″ and "rays3″, "ennepers", "petal" and "squirrel"
variations by Raykoid666
improved "cross"
random-flame-generator, also uses the new "rays"-variations
made the "custom_wf"-variation more robust against compile/syntax errors