JWildfire 1.50 mit einer Menge Neuerungen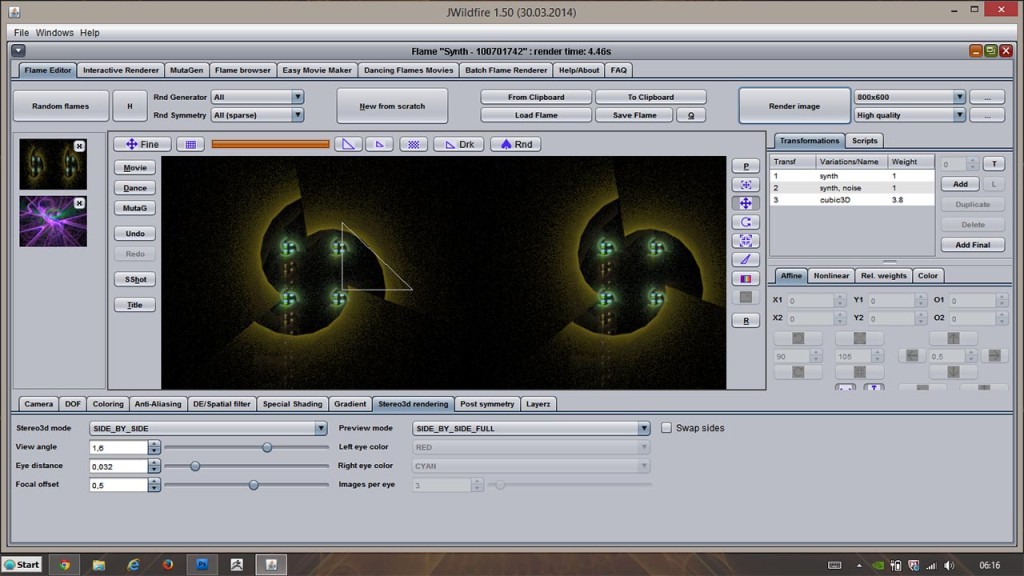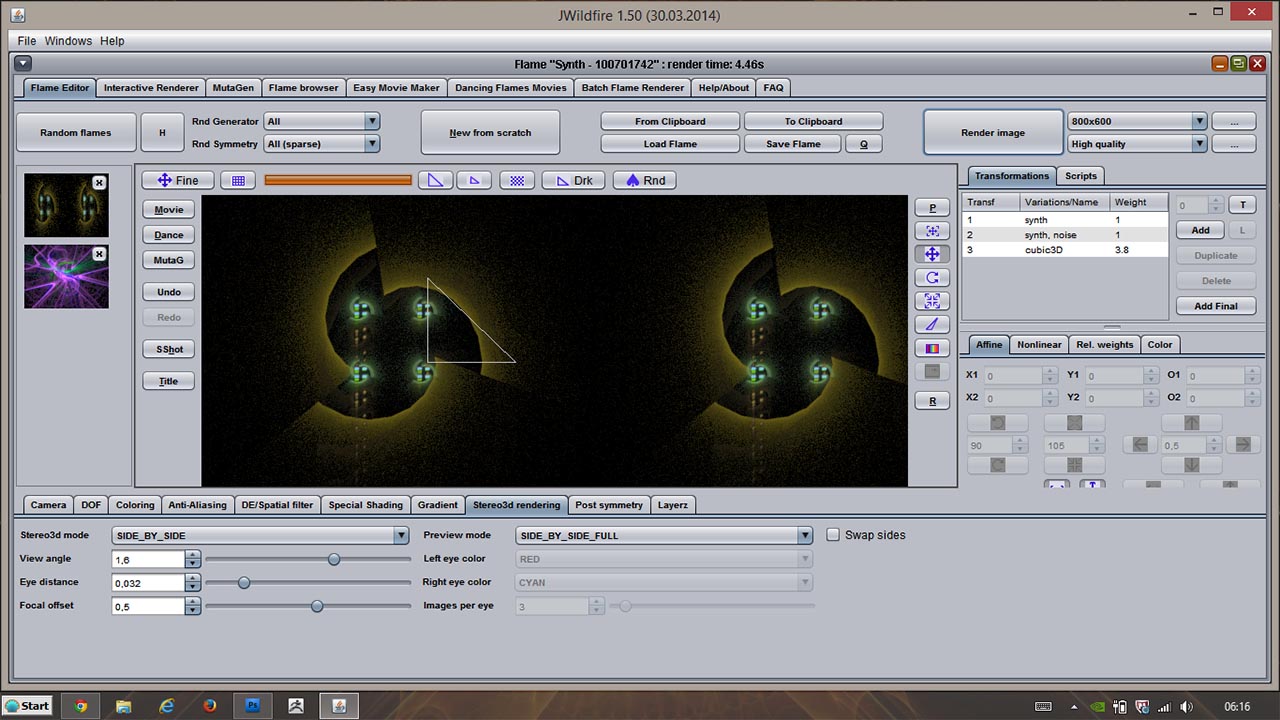 Andreas Maschke Arbeitet mit Volldampf weiter an der Entwicklung von JWildfire. So kam am Wochenende bereits die Version 1.50 mit einer Fülle an Neuerungen heraus.
So hatte sich u.a. jemand darüber beklagt, daß die Vorschau bei  Stereobildern nicht im Vollformat dargestellt werden, und prompt hatte Andreas darauf reagiert, und das geändert.
Nur eine der vielen Neuerungen. Eine komplette Liste gibt es auf der Entwicklerseite.
Complete list of changes:
there were really lots of changes in the Easy Movie Maker:

new concept of random-movie-generators (which create both random flames and random motion)
new random-movie-generators:

"Rotating Mandelbrots"
"Transforming Duckies"
"Transforming Bubbles"

motion blur, which is enabled by default and can even be used to render interesting/"dynamic" still images
new concept of "morph-types", the old behaviour is now called MORPH, and there is now a new morph type called FADE which uses layerz to fade one flame into another
added the possibility to replace a movie-part with the current flame in the editor
some new simple scripts
render button for instantly creating a preview-render in high quality
support for upto 12 of global- and xform-scripts
movie ribbon with movie-preview, allows to switch between different movies at any time (same concept as for flames in the amin editor)
realtime-preview of animation-scripts in the Easy Movie Maker (you may even change scripts while showing the preview)
dramatically increased the speed of evaluating motion curves
motions in the Easy Movie Maker now respect the FPS setting (rather than calculating the speed by the total number of frames)
removed *_NEG animation-scripts, refactoring of the Easy Movie Maker

additional camera-controls (x-, y- and z-position), this makes it possible to create really "different" images!
new "dc_hexes_wf" variation, which is derived from the well-known "hexes"-variation, but uses Voronoi-distance to apply additional color-information
new "dc_crackle_wf variation, which is derived from the well-known "crackle"-variation, but uses Voronoi-distance to apply additional color-information
new SIDE_BY_SIDE_FULL-preview-mode for stereo3d images (uses larger preview area)
new option to easily swap sides in stereo3d-rendering
5 new "What does this button do?"-tutorials from Naomi Richmond
5 new images from Craig Bak for the launcher
improved the layout of the ancient motion-curve-editing-dialog
completely removed SWF-related capabilities from JWildfire, completely removed all rendering-capabilities from the Easy Movie Maker
support for saving flames with multiple motion-curves for the same flame-property
realtime-quality is now a floating-point-value. So you have more level of control on very old/slow machines
caption of layerz is now stored/restored correctly
bugfix in the checks variation, can actually produce nice patterns now
fixed a problem regarding the re-saving of movies from older version
stepped back to Java 6 because of problems with Java 7 on the Mac platform
Ich bin auf alle Fälle gespannt, wie es weiter geht, auch wenn für mich dieses mal nichts gravierendes, oder spannendes dabei ist.
Viel Spaß!!!!"